A place where faith travels from India to Pakistan through binoculars, a border where citizens of Nepal and India have resolved water issues peacefully without governments' intervention, a tradition which makes people from Pakistan come to India to find marriage partners. Read more such cross-border stories and how a team is bringing them all together in the form of a feature documentary. 
"What you can see but cannot reach creates more attraction," said 65-year-old Bhabhisan Singh Goraya who travels from Amritsar to the India-Pakistan border every month. Bhabhisan's faith brings him to Dera Baba Nanak, Gurdaspur, Punjab. Here, he catches a glimpse of Kartarpur Sahib Gurudwara where Sikh Guru Nanak Dev took his last breath.
The Kartarpur Sahib Gurudwara is located 4.5 km inside the Pakistan border. Just like Bhabhisan, a 75-year-old lady travelled all the way from Uttarakhand along with her son to see the shrine.
"I have been hearing stories about Guru Nanak since my childhood. This shrine is something I have always dreamt of seeing personally. And finally, my childhood wish is coming true. It is the first time that I have come here," she said with an emotional heart.
 The spot witnesses hundreds of emotional pilgrims every day. 
After the India-Pakistan partition, people would informally cross over and visit the gurudwara through a bridge on the Ravi river that connected Dera Baba Nanak and Kartarpur Sahib. The bridge got destroyed in the war of 1965. However, devotees would still cross over the border illegally to visit the gurudwara. But after an official fence was installed, it became impossible to reach the gurudwara and a binocular became the only way for the pilgrims to be close to their faith.
There have been frequent talks of opening the Dera Baba Nanak-Kartarpur Sahib corridor where the Sikh community can get visa-free access to the gurudwara. Bhabhisan Singh is one of the key voices behind this movement.
Rajasthan is another Indian state that shares a border with Pakistan. And it has its own interesting story of cross-border relations. This interesting story explores cross-border marriages of the Sodha Rajput community of Pakistan. This lone Rajput Hindu community in Pakistan comes to India to find partners. A large number of cross-border marriages take place in Jaisalmer and Barmer districts of Rajasthan.
While the India-Pakistan border is the most talked about, India's other borders hold several interesting stories too.
The Gandaki river, which provides water to both India and Nepal has also become a symbol of peace and understanding for some villagers located near the river. As there is no official water treaty for the river between the two countries, the local residents have resolved the issue peacefully. The residents of the villages from both India and Nepal have decided to divide water across borders manually and locally.
Bringing the stories together
There are many such amazing stories from of borderland citizens from all of India's borders with its seven neighbouring countries. And one man is bringing all these stories together.
Samarth Mahajan, a filmmaker from Punjab, spent two years documenting the lesser known stories from all of India's borders. And now, he is all set to share these stories through a documentary called 'The Borderlands'.
Through this film, he and his team are collaborating with filmmakers across borders to create a unique collection of stories from both sides of the Indian border.
"In the stereotypical image of borders, we see army-men and terrorists, often missing out the common people who inhabit these areas. Our aim is to capture this human side of life, beyond the general understanding of military and political relationships," said Samarth.
Born in Dina Nagar, Samarth has grown up observing the India-Pakistan border. He has seen people beyond their citizenships.
"I have seen a man farming on the other side of the border. For me, he can never be an enemy," Samarth shared.
The Borderlands showcases stories from India's borders with its seven neighbouring countries; Bangladesh, Bhutan, China, Myanmar, Nepal, Pakistan, and Sri Lanka. Each story reveals a unique facet of borderland life, spanning across themes of nostalgia, faith, livelihoods, and fluid-identities.
"In times when conversations in the subcontinent are fast becoming confrontational, the film intends to bring out stories which are important to build cross-border relationships," he said.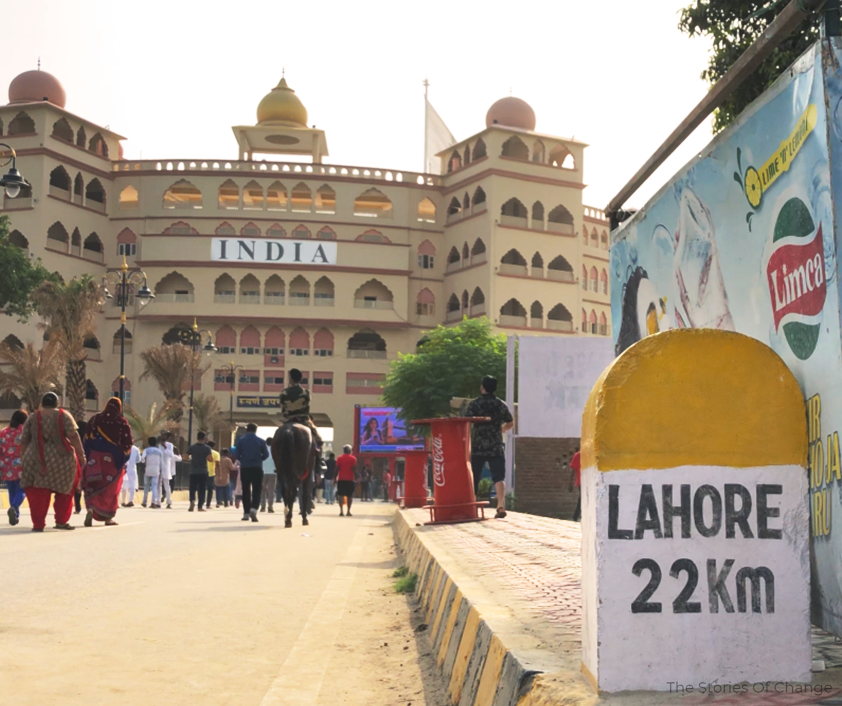 By working with the local community, the team has managed to get access to exclusive stories and areas.
Samarth remembers his experience in Attari where an elderly man's story moved his heart. The man's daughter got married in Pakistan 20 years ago. Her husband died a few years ago, leaving responsibilities of all the children on her lonely shoulders.
"She has three daughters and no one to take care of her," the man said with a lump in his throat and tears in his eyes.
His pain and his longing to meet his daughter could be clearly seen on his face. However, due to unhealthy relations between the two countries, he is unable to get a visa.
The journey of the film

The core team of five started working on The Borderlands in June 2018. The filming of this ambitious project includes a 3-part journey for shooting the film. The film is being made by the National Award winning collective Camera And Shorts.
Through self-funding, the team has managed to finish shooting in Punjab. For the next phase of the filming, Samarth has started a crowdfunding campaign on Wishberry. They aim to raise Rs 25 lakhs through this campaign to finish shooting and post-production of the film.
The film is expected to release in April 2020. The team has previously won a National Award in 2018 for a feature documentary, The Unreserved.
Check out the campaign to know more about The Borderlands and support the project.
Photos: Camera and Shorts
Like this story? Please send us emails and share your views at – contact@thestoriesofchange.com. You can follow us on Facebook, Twitter, YouTube and Instagram.
If you like our grassroots journalism and would like to help us in bringing out more such stories of change, please support us here.