Women from all backgrounds in Kashmir have come together to make face masks and protective gears for the doctors and medical staff in Kashmir. Read more to know how women in Kashmir take the lead in this time of crisis. 
Mufti Sadia, owner of "Hanger The Closet" has been hard at work for the last few weeks, even though her six-year-old business in Srinagar Kashmir was deemed non-essential during the COVID-19 pandemic.
The 28-year-old fashion designer decided to donate her time and make protective gear for the doctors in the valley.
"Last month, I was scrolling through my Twitter account and suddenly found a video of doctors from different hospitals of Kashmir. The doctors were lamenting that the hospitals in Kashmir lack proper and adequate protection gear, especially N95 masks and PVC coated gowns. The video aroused a sense of responsibility in me and I asked my workers to initiate the process of making personal protective equipment (PPE) and face masks," said Mufti.
The cotton fabric that she had purchased and stored for making the kurtis and khaftan was now being used for making face masks.
"We presented samples of PPE and triple-layered masks to health experts at Sher-I-Kashmir Institute of Medical Sciences (SKIMS), premier health institute in Srinagar, and fortunately they approved our stock. I provided hundreds of PPE to medicos without any profit," Mufti told The Stories Of Change.
She converted her residence into a workshop. A team of eight people work each day to help increase the supply and availability of PPE and masks. Mufti said she is keeping the price of masks and PPE at the very minimum considering the crisis.

"I would have provided the protective gears free of cost, but for the livelihood of my workers I decided to charge some amount from the buyers. My workers are working under tough conditions and they deserve some amount," she said.
Mufti is not alone in the race. Scores of women tailors have volunteered across the valley to help in the mass production of triple-layered masks. Fashion designers, small-time tailors and Industrial Training Institute (ITI) students volunteer to tide over the shortage of masks, and PPE vital for the front-line health workers.
"It gave me inner satisfaction and happiness to sell masks and PPE to the needy people without any profit during this medical emergency. A number of NGOs have already placed orders. I have sold 1,000 masks to Kashmir American Humane Society (KAHS) without making any profit," Mufti Sadia said. Mufti has prepared over 2,000 masks to date.

Coming together for a cause
In Tral, a town in Pulwama district, two sisters prepared and donated dozens of PPE to the doctors and para-medical staff working at Sub District Hospital (SDH).
Sayima Reshie (25) and her younger sister Aafu Reshie (24) are running a boutique namely "Fashion Shades" in restive Tral. Both sisters joined hands to make polythene-made gowns for the doctors and para-medical staff working at their nearest hospital.
Sayima said: "These days people get to stay at home because of the doctors who are working as frontline workers. We managed to prepare 70 gowns for them and handed those over to the concerned authorities."
Three years ago, when a 28-year-old fashion designer Iqra Ahmad launched Tul Palav, an online store for Kashmiri clothes like pherans (traditional Kashmiri tunics), she would have never imagined that one day she will be making face masks.
Ahmad, who owns the clothing brand Tul Palav has a good social media following. She used her fame to globally promote Kashmiri clothing, mainly pherans (a woolen cloak) and gowns embroidered using the local Tilla Dozi method.
These days due to lockdown the shutters might be down at her showroom, but her workers continue to work from their homes and deliver face masks for people.
Their job currently is to make face masks, under the guidance of experts, for those men and women working through the COVID-19 pandemic—medical professionals and drivers carrying essential supplies.
"The idea to prepare face masks came to me after I saw a video on social media in which people were complaining about the exorbitant rates being charged for masks. So I decided to contribute something at my own level and started making masks," informed Ahmed.
In north Kashmir' main town Baramulla, an ITI trained tailor Asima Shafi  took the initiative of making nearly 1,000 face masks for her neighbours and the patients admitted at Government Medical College (Baramulla).
"A few weeks back when some positive cases of coronavirus started reporting in our district, I went to the market to purchase the masks for my family from a chemist shop but it took me by surprise when the mask, that hardly costs Rs five, was being sold at Rs 40," said Shafi.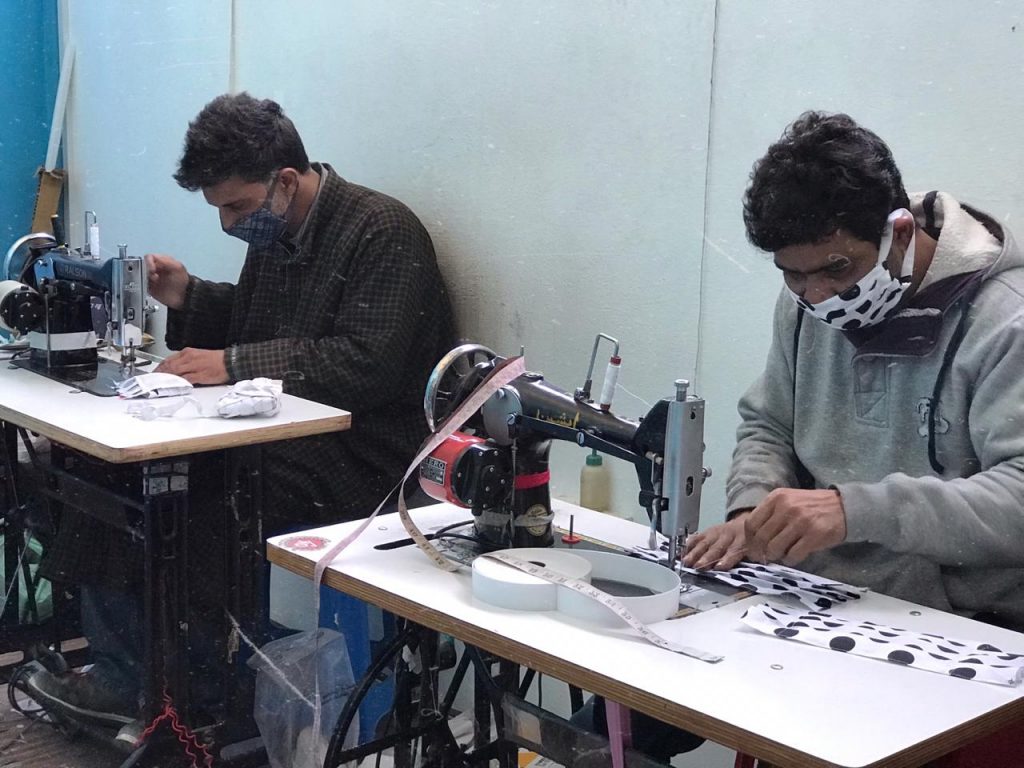 She said that the mask she found in the market was ordinary and people were being looted. "The situation shattered me, but at the same time, it inspired me. I decided to purchase cotton fabric, elastic, and stitches to make masks."
Her masks are not as sophisticated as the N95 variety, but come handy in protecting people.
Shafi has a diploma in sewing and tailoring and currently, she is dedicated towards the mask-making project.
"Cotton masks are much better than those made of Nylon, Polypropylene and Polyester available in the market," she said and added that the masks are washable, effective and made of high-quality cotton.
In the nooks and corners of the valley, both skilled as well as semi-skilled lady tailors work late at night and prepare face masks.
"We have gathered six trainees who make face masks and shoe-covers. We keep sewing them till late at night as we know more people would need them in upcoming weeks," another lady tailor from Pulwama said on account of anonymity.
The various challenge of the medical staff
Cities and towns in the region have largely run out of masks. Many doctors did not speak about the problems they are undergoing in the hospitals. On March 8, a doctor in Jammu faced government ire and was transferred for demanding adequate protective measures for medical staff.
On the condition of anonymity many doctors and paramedics leading the fight against COVID-19 in the hospitals of Kashmir voiced concern about the lack of proper and adequate personnel protection gears.
Personal protective equipment (PPE), or gear to safeguard health workers, includes a variety of items: face-shields, masks, gloves, coverall gowns, head covers, and shoe covers. Doctors treating COVID-19 patients claimed they are stretched and unable to get proper rest.
Junior doctors at SKIMS Soura grieved over the lack of PPE. A doctor on the condition of anonymity told The Stories of Change that there is acute shortage of PPE.  
"In the absence of PPE, many doctors wear raincoats. Senior officials are even hoarding face masks and leave the doctors to the mercy of God."
Another doctor at Government Medical College Anantnag lamented that due to lack of protective gear the government is using healthcare workers as cannon fodder to fight against coronavirus.
Sources at directorate of health services Kashmir said that the gowns given to doctors and paramedics in district and sub district hospitals have been locally made with sub-optimal material which will do nothing to protect them from the virus.
"These are just substandard raincoats. It would have been better if they would have given us at least proper raincoats," the doctor said, adding that the same was the case with gloves and masks.
Regarding this crisis president of Doctors Association Kashmir (DAK) last month sent a letter to Baseer Ahmad Khan, the newly appointed advisor to the lieutenant governor of the Union territory of Jammu and Kashmir in which DAK pointed out that hospitals in Kashmir lacked "proper and adequate personnel protection gear especially N95 masks, PVC coated gowns, goggles and other equipments."
The doctors body cautioned the administration that the lack of safety measures for doctors would lead to devastation. "We appeal your good self to kindly make arrangements to supply protective gear for the doctors, nurses and other paramedical and supportive staff, so that they work without any apprehensions in health facilities," the letter stated.
The coronavirus pandemic, which is rapidly spreading has claimed three lives so far in Kashmir and there are about 190 infected cases who are being treated in various hospitals of Jammu and Kashmir union territory.
The general public, especially doctors are facing a huge shortage of face masks besides other medical items to keep themselves at bay from the disease.
Number of NGOs in the valley have pooled manpower and trained certified professionals to develop health safety gears from a locally procured non-woven polypropylene material. Reports claimed both skilled as well as semi-skilled workers are involved to make face shields, a substitute for goggles.
Are home made masks safe?
On the other hand, the health experts in the valley have termed the use of homemade masks as "unsafe and harmful."
The experts claim the homemade masks made from cloth are itself infected and unsterilized making it unsafe for usage. "These masks are not medically recommended by any study as on date," the health experts said.
According to a local wire service Dr. Nisar Ul Hassan, the only flu expert in Jammu and Kashmir, who also headed the swine flu epidemic in the erstwhile state of Jammu and Kashmir, said face masks go through a scientific procedure, using a mask is same as prescribing a drug or medicine to someone.
"All the medical equipments go through a scientific process and only their use is recommended. The same goes for the use of face masks, they are also medically recommended."
Dr. Nisar said that as on date it has not been proven that the homemade masks will prove safe against a deadly virus like COVID-19 as these masks don't go through sterilization process the way medically recommended masks go.
Another physician from central Kashmir's Ganderbal district said: "Most cloth face masks don't work. It is true that they start off as anti-bacterial fabric, but people need to disinfect the mask after each use."
On March 30, the World Health Organization recommended people to not wear face masks unless they are sick with Covid-19 or caring for someone who is sick.
"We need to be clear. The world is facing a significant shortage of PPE for our front line workers—including masks, gloves, gowns, face shields and protecting our health care workers must be the top priority for use of this PPE," said the WHO officials.
Photos: Irfan Amin Malik
Like this story? Please send us emails and share your views at – contact@thestoriesofchange.com. You can follow us on Facebook, Twitter, YouTube, and Instagram.
If you like our grassroots journalism and would like to help us in bringing out more such stories of change, please support us here.