During the COVID-19 pandemic, casual municipal workers in Kashmir are working shifts as long as 12 hours without being compensated for overtime. Before the lockdown, these casual workers would get other part-time work. Many of them had small shops that added to their family income. But due to the lockdown, all other means of income have stopped and they are struggling to survive.
As the COVID-19 pandemic lockdown continues in India, many warriors are working out for the safety of people by making their tireless efforts on a daily basis. The most vulnerable and exposed are the municipality workers working day and night to ensure hygiene and cleanliness.
Thousands of casual municipality workers and sweepers in Kashmir union territory have been continuously working under this pandemic (Covid-19) & are 'remaining available' for every task being assigned by the concerned department.
Casual workers are usually the ones who do not have a full time or contract based employment. They are often hired for temporary work usually on an hourly or daily basis.
A group of the workers while sanitizing a town in South Kashmir said that they have been working very hard from dawn to dusk on the frontline since the outbreak of coronavirus.
The workers were seen working at various locations, sanitizing the cities, towns, and other areas. Their role is not restricted to the ongoing lockdown situation, but their work before the pandemic is quite evident in most of the parts in Kashmir. The workers said that they are still out on the roads and streets to keep their respective jurisdictions sanitized with the motive to combat deadly Covid-19.
They even went to the red-zones for the sanitation process, and are doing their job in risks most of the time.
Struggling to make their ends meet
As compared to all other departments, their role is quite appreciable. However, despite all that, these workers are not able to fulfill the basic needs of their families due to their low monthly salary.
With sanitizers and mops in their hands, a group of municipality workers in Tral town of Pulwama district in Kashmir said that they are dejected even after working hard from early morning to late evening. They said that they are leaving no stone unturned and are working out daily, but their demands are yet to be fulfilled.
Before the lockdown, these casual workers would get other part-time work. Many of them had small shops that added to their family income. But due to the lockdown, all other means of income have stopped and they are dependent on their monthly salary only.
Two of the workers claimed that they have been demanding a hike in pay for years, but no concrete step has been taken to regularize them due to which their families suffer. The monthly pay of these casual municipal workers in the valley is Rs 6,750 per month only.
Shabir Ahmad, a municipal worker shared his plight and how he is struggling to arrange for the daily meals for his family.
"My monthly salary is too low and my needs are more. I am worried and not able to feed my family properly," Shabir said.
Another worker who was working side by side with Shabir has said, "Inflation is on high, due to which it becomes very hard for me to manage my household."
"I receive only Rs 6750 per month, for working round the clock. Inflation is on high while responsibilities are many. The education of my children gets affected. The government should ensure our regularization," he said.
The long shifts and demand for their regularization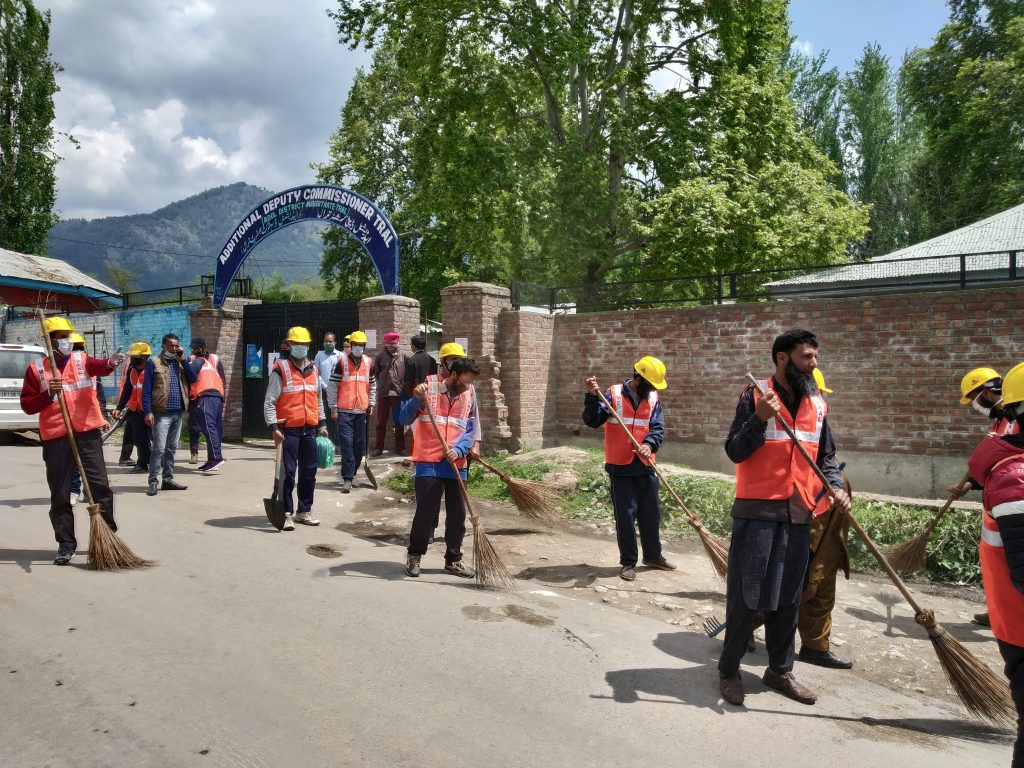 As per the workers, they are working as casual employees for the last 15  years with the hope that they will be regularised someday. They said that Rs 225 per day in this era is mere injustice for them as they are not able to meet their needs with a low monthly salary.
Javid Ahmad, one of the workers has said: "I have three daughters. I also want to educate them, but that needs money. My pay is very low and needs are quite high."
The workers said that they are working hard, particularly in the Corona, and are ensuring proper sanitization with their tireless efforts which need to be taken into consideration. The workers are not paid for the extra time. Many of the workers leave their homes as early as six am and come back after a 12-hour long shift. Yet, they are not compensated for the overtime.
They demanded that authorities should 'regularise' them and should hike their pay as early as possible so that they may meet their needs.
Executive Officer (EO), Municipal Committee in Tral South Kashmir, Manzoor Ahmad said that the government has not enhanced their pay and no talks about their regularisation are in the process anywhere in Kashmir.
"Their case is pending with the government. If the government agrees to increase their pay, it will be implemented for all the casual workers (sweepers) across the valley," Manzoor said.
Photos: Basharat Rashid
Like this story? Please send us emails and share your views at – contact@thestoriesofchange.com. You can follow us on Facebook, Twitter, YouTube, and Instagram.
If you like our grassroots journalism and would like to help us in bringing out more such stories of change, please support us here.