Sanjana Nagar, a student of Vidya School, Gurgaon (a school for underprivileged students) secured 95 percent in her 12th board examination. Her father works as a driver and her mother is a housewife, the six-member family lives in a two-room flat. Due to the disturbance and chaos in the morning, she started studying late at night.
"In 10th class, we had a visit to Delhi University colleges, we interacted with students and saw different campuses, I fell in love with the atmosphere and made my mind of working as hard as I could to get into these colleges," Sanjana said. Though her family supported her at every step, the society around her was adamant about the fact that a girl can achieve so much.
She said, "I believe that our society is a male dominant society and women are often left out. My parents were supportive, but not everyone is not as lucky. My aim is to pursue Journalism to bring a change in the society and to work for the betterment of women."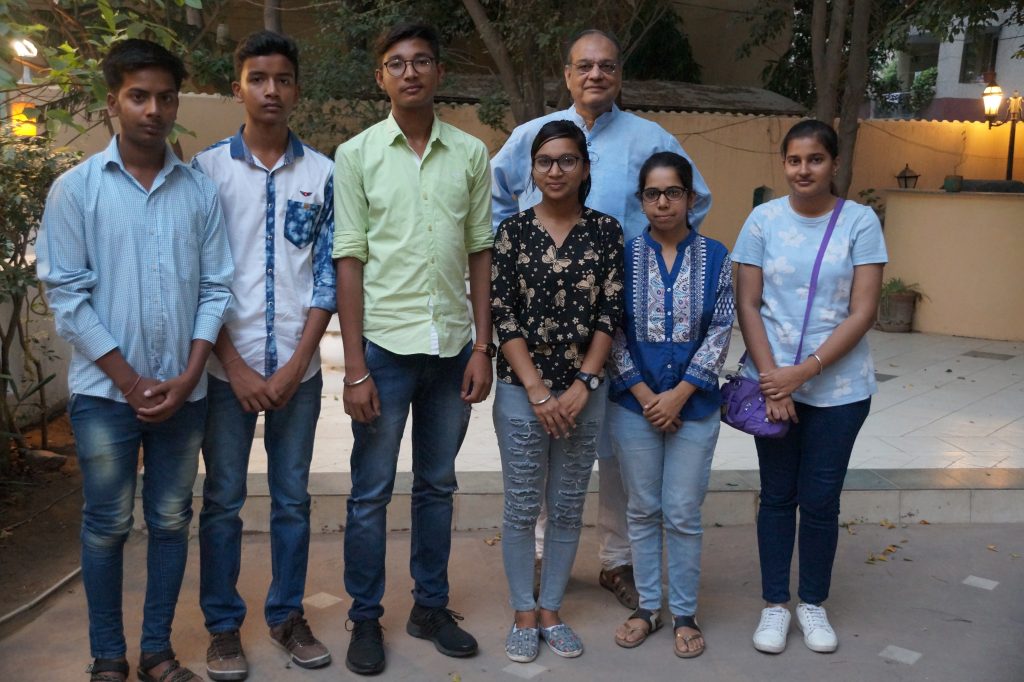 Anjali Prajapati, a prodigy, has an IQ (Intelligent Quotient) of 140. A daughter of a car mechanic, she lives in a one-room flat with her family. She learned calculus and graduate level mathematics in her class 10th from Khan Academy and solved 64 percent of the problems in the website's World of Math section, for which they made a documentary featuring her. The documentary was presented by Salman Khan, founder of Khan Academy, worldwide.
"Due to a low financial condition we could only afford a one-room flat and due to morning chaos in the house, I used to study at night in the kitchen so that other members didn't get disturbed. We don't have a fan in the kitchen but I managed somehow. I used to drink a lot of water to regulate my body temperature. I believe these are all challenges that one has to face in life. I don't see myself less fortunate than others but rather I think that these things motivate me and make me work harder," Anjali said.
She has a keen interest in physics and mathematics and wants to pursue research in future.
Sunny, a student of Govt. Boys Senior Secondary School, Pitampura, secured 91 percent in his class 10th board examination. His father passed away five years ago. Since then he became determined to achieve something and make her mother's life better. He said, "I just have a dream to make my mother feel proud. I want to earn enough money to bring all the happiness to her. During the exams, I used to go to the balcony to study at night while my mother used to sleep in the room. Now I am aiming to become a Chartered Accountant. To prepare for that a coaching is must so my uncle is arranging that fees for me."
Shalu, a student of Sarvodya Vidyalaya, Pitampura scored 86 percent in her 12th board examination. She only has her mother who works eight hours per day at a factory. She said, "I never thought that I am inferior to others because of my financial conditions. Students like us would remember these struggles of studying in heat, facing power cuts when we become a successful person and would cherish those moments. I just want that smile on my mother's face when she saw my result to remain forever."
These children succeeded against all odds and will surely have a bright future ahead. There are many such hard-working students in India but they are often left out and are not given a chance to prove themselves.
Is the Government doing enough for such children?
Despite education is guaranteed by our constitution as a fundamental right, India has the world's largest population of illiterates. More than 40 percent of India's children drop out of elementary school and the country has more than 287 million illiterates. It is estimated that 60 lakh children in India are still out of school.
Dilruba Kalsi, executive director at the Vidya School said, " When the government introduced RTE, the enrollments went up but the government schools face a problem in retaining the students in school. Government schools often do not have right environment to keep the kids interested. The basic problems with the government schools are that they lack basic amenities, a lot of schools don't have toilets and even if they do, they have common toilets for boys and girls. In addition, overcrowded classrooms, low teacher to student ration, which sometimes the ratio is 1:60, adds to the woes. I believe that Delhi government has improved the conditions of the government school in their state but the conditions in other states are pathetic. On paper, a lot is happening but in reality, we are still far behind."
Kishore Asthana, president of Mensa India said, "We have estimated that there are 6 million underprivileged gifted children in India's rural areas whose intelligence is at 'the extremely high level'. But there are no efforts by the government to recognize these gems of our country. I believe that these children could win India tons of Nobel prizes"
The possible solution
Apart from improving the infrastructure of government schools and increasing the budget allocation to the education sector, the government should build a strong partnership with NGO's. Organizations like the VIDYA, which empowers underprivileged children with high education and programs like the Dhruv Project run by Mensa India, which identifies and gives scholarships to the gifted underprivileged students are a way forward. These organization and programmes provide high-quality holistic education to underprivileged students, but cannot have a big reach until there is a government initiative to empower them. Kishore Asthana, president of Mensa India said: "Soon we will going to have a meeting with the HRD ministry and we hope that government partner with us in our mission."
If you know children who are talented but lack financial support to pursue their dreams, please send us a mail and we will connect them to the right people.
Photos: Rahul Satija
Featured image: VIDYA
Like this story? Please send us emails and share your views at -contact@thestoriesochange.com. You can follow us on Facebook, Twitter, YouTube and Instagram