The contingent workers of the education department of Kashmir are being paid as low as Rs 50 per month. Some do not even get paid this small amount regularly and struggle to survive. In addition, they have been given duties at quarantine centers without any protection or health insurance. 
In order to get 50 rupees monthly wages from the government, 43-year-old Naseema Akhter has been performing her duties punctually for the past nine years. The paltry amount does not help her anyway, yet she continues with the hope that the government may regularise her services one day.
Naseema, a mother of three, has been working as a Contingent Paid Worker (CPW) in the education department for monthly Rs 50 per month. Last year her wages were increased from Rs. 25 to Rs. 50.
"Due to extreme poverty my children left school midway and sadly now they are working as labourers to support the family," she rued.
Many lives at stake
Due to the coronavirus pandemic when the educational institutions are closed, the government has assigned the quarantine duties to CPWs. The administration without taking into consideration their paltry wages, lack of normal employee benefits, and lack of insurance, has deputed these downtrodden workers for COVID19 duty in quarantine centers.
On June 1, 2020, a zonal education officer in Lurgam, South Kashmir has issued an order to depute the CPWs in quarantine centers as cooks and sweepers. When the positive cases were detected from the quarantine center in Hamdard Grammer School, Tral, the concerned administration failed to segregate the CPWs from the quarantine center and ultimately one of the CPW got infected with the virus.
Both people as well as journalists have been asking the government about the issuance of an order to involve CPWs for quarantine duties but yet there was no response from any official.
When our reporter contacted the concerned Zonal Education Officer, he admitted the problem of issuing orders to engage CPWs for Covid-19 duties. However, he said the department does not have sufficient staff who can be deputed in quarantine centers.
These CPWs are surviving on bare minimum money.  They are working as sweepers, watchmen, and cooks in different government schools. A few NGOs have come forward to support their needs.
"Now if the CPW who was tested positive die due to coronavirus, what would happen to her family? There is no SRO, employee benefits, and insurance policy available to any worker. The government has taken a wrong decision to assign COVID duties to these non-regular employees who do not even get daily wages," a CPW Fayaz Ahmad told Stories of Change.
Amid Covid-19 pandemic, Fayaz had extended his support by donating Rs 1,000, which was equal to his 10 months' salary to the COVID19 relief fund in April. Fayaz is working in one of the government schools for just 100 rupees per month.
Struggling to survive
CPWs from the past two decades have been knocking the doors of government officials in order to get regularized.
"Government has turned a blind eye towards the plight of women contingent paid workers (CPWs) working in the education department for the past 15 years. These women CPWs survive on meager Rs. 25 as the monthly honorarium from the department," Naseema told Stories of Change while taking a deep sigh.
Naseema has a painful story to tell. She was appointed by the government in the education department as CPW) after she lost her husband in a road accident.
"I was employed after my husband Abdul Ahad Shah died in a road accident. I was appointed as CPW at a local primary school on the outskirts of Tral. I have been living with a hope that I will either get wages equivalent to a daily wager or my services may be regularized, but sadly nothing has happened so far," she rues.
Her deceased husband had also been a CPW since 1992 at the same school.
"For Rs 50 you get two ice creams. How can I pay the school fee for my children? Thank God for a local NGO, Jammu and Kashmir Yateem Trust, which helps us to meet our daily needs," says Naseema.
In northern Kashmir's Bandipora, a 64-year-old Nisara Begum has been working as CPW for the past 15 years with a meager salary of Rs 25-50 per month. "I have been working as a sweeper in a local government school Sonerwani for the past more than 15 years."
Nisara is also a widow who also lost her husband in 1995.
"I have a 30-year-old handicapped girl. With Rs 50 I have to run home affairs and also arrange the medicines for my daughter. How one can manage expenses with Rs 50 per month."
"On the one hand the world is celebrating International Women Day and on the other the government is doing economic and social injustice with hundreds of women CPWs."
These CPWs have to clean the classrooms, office, staff room, washrooms of the educational institutions and they do all the petty jobs in the school while the government pays them only 50 rupees per month.
"This is sheer injustice with CPWs. For the past nine months we haven't received a penny from the department or even the school authorities," said a CPW from central Kashmir's Budgam district.
Despite working in all situations this paltry amount is also not given regularly to these poor CPWs. A CPW worker claimed that the authorities pay a few hundred rupees sometimes during Eid or any other festival and tell not to ask for months together.
CPW's like her have performed night duties in government schools, particularly during elections or during political unrest like in 2008, 2010, 2016, and 2019.
In August 2016 when the top Hizbul Mujahideen commander Burhan Muzaffar Wani was killed, Kashmir simmered, leading to massive political unrest. The CPWs were asked to act as guardians and watchmen of schools during night when some of the schools in different parts of Kashmir were set on fire by unidentified persons.
Due to lack of facilities for CPWs in government schools, in March this year two women and a sweeper were injured in a fire mishap in a school at Larnoo area of Anantnag district .
All three are working as CPWs at the Government Primary School, where they received burn injuries. Due to a lack of adequate facilities and protective gear, the underpaid workers received burn injuries when the kitchen caught fire. The incident occurred when the workers were cooking mid-day meals for students.
Waiting for justice
There are at least 550 CPWs in Pulwama and 1,100 in Budgam districts only. They all demand that they should be paid the minimum wages. They also demand that there should be a policy or law to protect them.  Some women CPWs, in the wait for a permanent job, have turned 40 and are still unmarried.
Some CPWs even provided their land to the government for the construction of school buildings and were promised permanent jobs and compensation but nothing was delivered.
In 2003 Nazir Ahmad Sheikh from Khan Sahib area of Budgam district provided one kanal (a traditional measuring unit) of land for the construction of a school building. "On the assurance of the authorities that I will be given a job, I agreed to give land, but today I only regret the decision," said Sheikh.
Sheikh said that he was engaged as CPW in the same school with a promise that his services would be regularised within a few months after completion of some documentation work.  "17 years down the line, I along with my family are waiting when those few months would end."
According to sources, the then State Human Rights Commission (SHRC) termed this as a gross violation of human rights as the state is not paying the workers their minimum wages. In March 2017, the SHRC issued an order to the Directorate of School Education Kashmir and Jammu to submit a report within four weeks about the employees who are being paid less than the wages prescribed under the Minimum Wages Act, which is Rs 110 per day.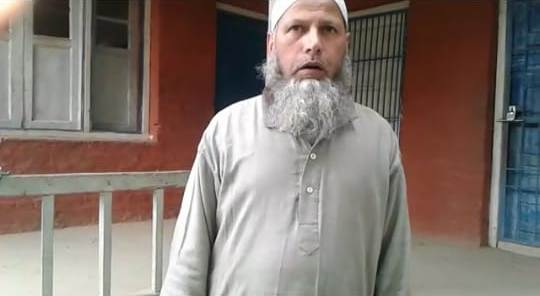 It is important to mention that following the abrogation of Jammu and Kashmir's special status (Article 370) and its bifurcation into two union territories on August 5, last year, the government at the Centre has repealed around 100 state laws, which includes the law that governs the functioning of the SHRC.
Since J&K is now a Union Territory, therefore, under the SHRC was replaced by National Human Rights Commission (NHRC).
State president Contingency Paid Workers Association Zahid Ahmad Shah talking to Stories of Change said the government had promised the CPWs that they will be provided 50% of class IV jobs in the education department but nothing was done as of now. "These are all false hopes which the government has been giving to us."
Director School Education Kashmir, Mohammad Younis Malik told Stories of Change that the whole department is committed to resolving their issues. "We have already reserved 50% class IV job quota for CPWs and our utmost priority is to apply minimum wages act on CPWs so that they will first get genuine wages," said Malik.
Regarding the quarantine duties order issued to CPWs, the director said he will look into the matter. Principal Secretary, School Education, Dr Asgar Samoon did not answer the repeated calls made by this reporter.
Like this story? Please send us emails and share your views at – contact@thestoriesofchange.com. You can follow us on Facebook, Twitter, YouTube, and Instagram.
If you like our grassroots journalism and would like to help us in bringing out more such stories of change, please support us here.