India and Pakistan attained freedom together. It's been 72 years but still, we are not able to fully enjoy this freedom. Our borders hold us back. But here are a few individuals who portray the true essence of freedom. Read their heartwarming and inspiring tales of friendship, success and how they managed to create magic beyond borders.
When Abhishek from India first visited Pakistan, he was overwhelmed by the hospitality.  His next 20 days were spent in making amazing friends in this "forbidden" land where he almost forgot he was not in India.
This independence day, we bring you some incredible stories of love, friendship, inspiration, partnerships and success between the two countries. These stories go beyond the border and portray the true essence of freedom.
Shilo and Nida- spreading love, art, and beauty
"It was love at first sight," said Shilo Shiv Suleman, a Bengaluru based artist as she recalled her first meeting with Nida Mushtaq, a human rights activist from Pakistan.
As Shilo landed in Lahore, every page of history textbooks flashed before her eyes, all the stories her grandmother told her about Pakistan started ringing in her ears. And then she saw Nida, whom she was meeting for the very first time.
"Nida saw my artwork in Sri Lanka and sent me a message three years ago saying that we should work together. She invited me to come to Pakistan after she managed to find the funding for a project. It took us 10 months to get my visa done," Shilo says.
And there Shilo was, finally on the other side of the border, to spread love, with a friend she had just made.
In just three days, Shilo decided that Nida will be the co-founder of her initiative, Fearless Collective.
Shilo started Fearless Collective in 2012. The initiative aims to create a narrative about gender violence and marginalized communities through arts.
They spent the next few weeks taking Fearless Collective to different cities of Pakistan including Rawalpindi, Lahore, and Karachi. They met communities and created large murals and triggered a conversation around gender violence. They also worked with the transgender sex workers of Pakistan to spread the message of love and a fearless society.
When the duo lost the proposed site, they started painting without permission on the wall of a national bank. However, the owner of the bank loved their work and asked them to continue.
"We received so much love. People contributed in whatever way they could, they painted along with us and gave us paintbrushes and ladders," Shilo recalls.
Till date, Pakistan's project remains closest to her heart.
"While working in Pakistan, I found out that even though we have read history from a different point of view, the stories of women were exactly the same," Shilo says.
Shilo returned to India and her friendship with Nida moved to video calls. They would talk all day about their work and where they can meet next. "We talk at least six hours a day and in those hours all we discuss is how we can meet since getting a visa is extremely difficult," Shilo said.
They could not visit each other's countries so they started meeting all around the world. They went to Indonesia, Brazil, Lebanon, Sri Lanka, Nepal, USA, UK, Europe and many more places.
"Even if it is a small conference or project, we instantly say yes. That way we get a chance to meet," says Shilo.
Bringing Nida on board helped Shilo create many unique projects. Nida, being an activist gave a better clarity on what places Fearless Collective should be working next. They both fit perfectly like a puzzle piece.
The professional relationship they shared soon turned into a unique bond. Their love for old Hindi songs, literature, beauty, poetry brought them even closer.
"Kazra Mohabbat Wala! We love this song. All these old songs like Pyaar Kiya Toh Darna Kya, they resonate across the border. We break into songs in our conversations," she says.
Shilo brings beautiful ikkat sarees for Nida while Nida gets lovely Afghan jewellery for Shilo. "We exchange so many things. We make sure we get a tohfa every time we meet. Our styles are also very similar. We keep sharing our clothes and jewellery," she says.
Another thing that they share is the language. Both of them are ardent lovers of Urdu and Hindi. This dynamic duo is heading to Tunisia next to create art with young girls. They now plan to make young women across South Asia pick up their brushes and paint. They will be helping 10 artists create their own art in five countries.
"I wish visa process was made easy. We have to find ways to make strong cross-border connections. Having a staged, formal conversation won't help. We need a real connection. There has to be a lot of dancing, art, laughter, love, events and that will make a true connection," Shilo says.
Shubhendu and Shahzad – creating forests together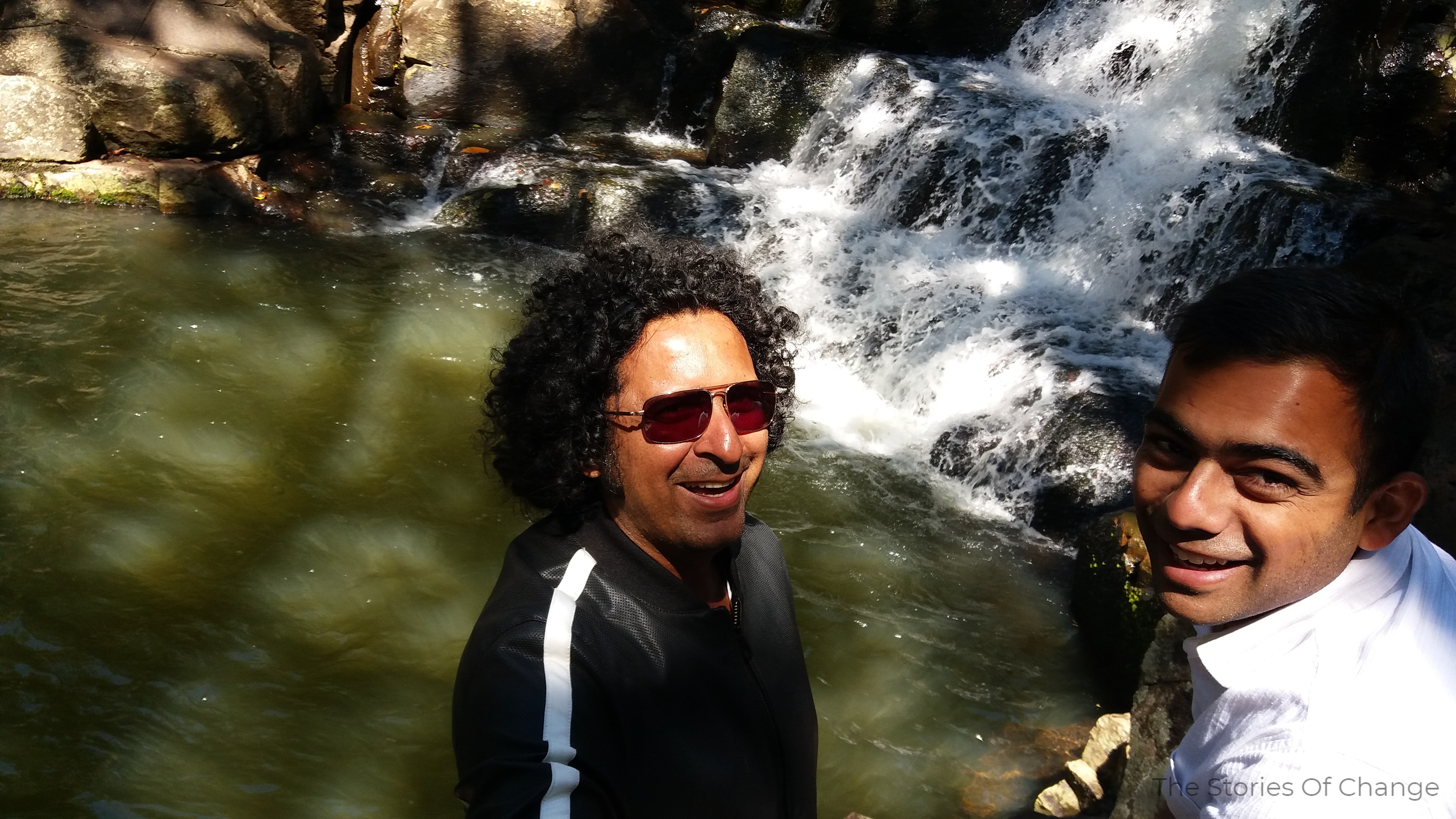 When Shahzad Qureshi, an entrepreneur from Pakistan saw a TED Talk about creating forests by India based Shubhendu Sharma, he immediately sent him a message. Shahzad asked Shubhendu to visit Pakistan and help him create forests there.
Shubhendu runs a company, Afforestt in India that specialises in creating native, natural forests in small spaces.
"We had a Skype call where he explained about his methodology, technicalities, etc. I found a place to create a forest and we started his visa application process," recalls Shahzad.
Soon, Shubhendu's visa approved and he landed in Karachi on November 10, 2015.
"Since it was his first time in Pakistan, we wanted to ensure a safe stay for him here. I hosted him in my own house where he also met my family," Shahzad recalls.
"I stayed at Shahzad's house and got along with his father really well. His father was from Agra, India and my father had also spent some time in that city. We talked a lot about both countries and how similar things are," Shubhendu says.
The duo then travelled to different locations in Pakistan, looking for the material to plant their very first forest in the heart of Karachi. As they continued their work, their bond grew stronger. Gradually, they shared common interests, conversations, jokes and much more.
In 10 days, the forest was ready. "We did not know if I will be able to get a Visa next time so we made the forest in a hurry. We also made a few mistakes, due to which the forest did not grow. I had to come back to India. We kept coordinating over the phone and video calls to track the progress of the forest. We implemented some changes and finally, the forest started showing some life after one year," recalls Shubhendu.
After seeing this success, they created more forests in Lahore, Iran, and Nicaragua together. Their friendship grew organically and Shahzad opened a partner company, Urban Forest in Pakistan to create more forests independently.
"Since it was hard to work together in our countries, we started looking for opportunities in other places," Shubhendu says. Every time the duo would meet, they would bring souvenirs for each other. Shubhendu would actively look for tag 'Made in India' on his gifts while Shahzad would bring gifts with a tag 'Made in Pakistan'.
Shahzad recalls his first visit to India in 1997. "As soon as I landed, I saw so many similarities. People, their language, their food, their dialect, their style, dressing and everything else was so similar. I didn't feel I was in a different country. It felt like home," Shahzad says.
Shahzad wants to visit India again. This time to learn water management techniques from India. However, getting a visa still is a big challenge.
"I think the government of both countries should start trusting their citizens. We won't become bad citizens by visiting each other," Shubhendu says.
The current situation is, to invite someone from Pakistan to India, the invitation needs to be attested by a gazetted officer. "I could not find a single officer who was ready to attest that. We need to eliminate the fear first," says Shubhendu.
"We think we will face a problem in visiting other countries if we have a Pakistani visa on our passport. Similarly, people there think that they might a face problem with their authorities if their passport has an Indian visa. We have to stop fearing so much," says Shubhendu,
Shahzad thinks that people should actively start travelling cross-border. With more and more people showing interest in travelling, the things might get a little flexible.
"If you are not able to visit physically then you can indulge in cross-border projects digitally. Some great things can happen with remote collaboration too," Shahzad says.
Shubhendu is now waiting for Shahzad to visit Jodhpur soon so that their successful model of growing a forest in an arid region can be taken to Pakistan.
Like this story? Please send us emails and share your views at – contact@thestoriesofchange.com. You can follow us on Facebook, Twitter, YouTube and Instagram.
If you like our grassroots journalism and would like to help us in bringing out more such stories of change, please support us here.