Dipankar Das, a 22-year-old son of a farmer from Andaman is a serial innovator. A solar pulse thresher for the farmers, a deep freeze device for the fishermen, and a water carrier for the women, Dipankar has created multiple innovations to simplify the life of the farmers.
The National Commission on Farmers (NCF) implies that farmers are the center of our agriculture. Their success is our success, the success of the Nation, but the everyday hardships of farmers are something which many people tend to ignore. Agriculture has been our predominant form of occupation, but today, many farmers are quitting agriculture and moving to cities in search of a better life.
During the time when the agriculture sector is in deep crisis, Dipankar Das, a 22-year-old man from Port Blair, Andaman is trying to reduce the hardships faced by the farmers at large.
Son of a farmer, Dipankar witnessed the never-ending struggle faced by his family. His parents are share croppers and at a very early age he realized the vulnerable condition of his family. Despite having an interest in Science, he took Arts because he couldn't afford it.
"I can feel the pain that my parents are in; they have to walk 5km to work. I see their everyday problem and try to solve it," says Dipankar
Dipankar decided to help his parents by creating a machine that will reduce the extensive manual work. 
When he was in grade one, he made toys out of the mud and sold them to make extra money. He couldn't afford to buy expensive toy cars so he used to pick up the cars thrown by the rich kids and used to explore it. This way he got his exposure.
When he reached grade six he created his first innovation, a Paddy Thresher. He saw his mother facing a hard time while threshing and so developed a device that includes less physical labour.
The multiple innovations
Dipankar innovated a machine called " Solar Pulse Thresher " for efficiently threshing matured pulses and grains such as green gram,  black gram, arhar, and horse grain without using electricity or fossil fuels.
He saw his parents struggling while threshing and harvesting. This inspired him to create a solar thresher that not only saves time but also reduces the cost of harvesting and threshing process.  Being a solar operated machine, it also saves electricity and standardizes the process across the farm.
Dipankar's next innovation was for the fishing community. Dipankar noticed that the fishermen go out in the deep sea to catch fish and stay there for weeks. They store the fishes in an ice box. In spite of taking several measures, the ice eventually melts and the fishes go foul. Preserving fishes becomes a difficult task. Hence, many people use chemicals like formalin to freeze the fishes. The chemical increases the cost of fishing and is also very dangerous for humans. 
Dipankar's idea is to make a deep freeze to preserve the fish which runs on solar power. Using the deep freeze, fish can be preserved for many days. It will also benefit the fisheries industries.
Dipankar's next innovation birthed after he witnessed his mother carrying water for long distances. "I saw my mother walking hundreds of meters to bring water, so I developed a water carrier to reduce the weight of the water over the head," Dipankar said.
He has also developed a low-cost paddy dryer, which got selected for state-level exhibition. His other projects include a color-coded thermometer, machine for differentiating artificially and naturally ripened fruits, a device to collect mahua flowers from the ground, automatic solar hand wash, multiple home cleaning stick, multiple harvesters, neutral hand wash etc.
The positive impact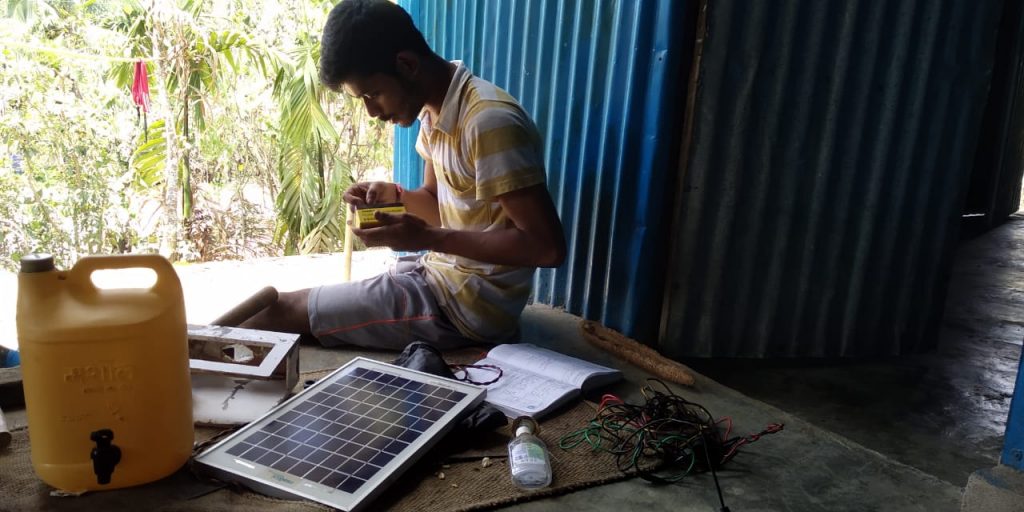 There are farmers who can't buy expensive machines and additional labour and this machine helps a lot in farming work with reduced cost. The solar thresher machine has been distributed to two farmers and is proving beneficial to them.
Innovating machines involve a huge number of resources and funds and Dipankar struggles to manage those. "I have to do everything on my own. Once the machine is ready, the testing part becomes a challenge," he said. 
"I like to learn and can go to any extent when it comes to learning. When I was in college I used to sit in others classes.During holidays, I used to work at people's houses, even cleaned their toilets, worked in hotels. I have been working since childhood," says Dipankar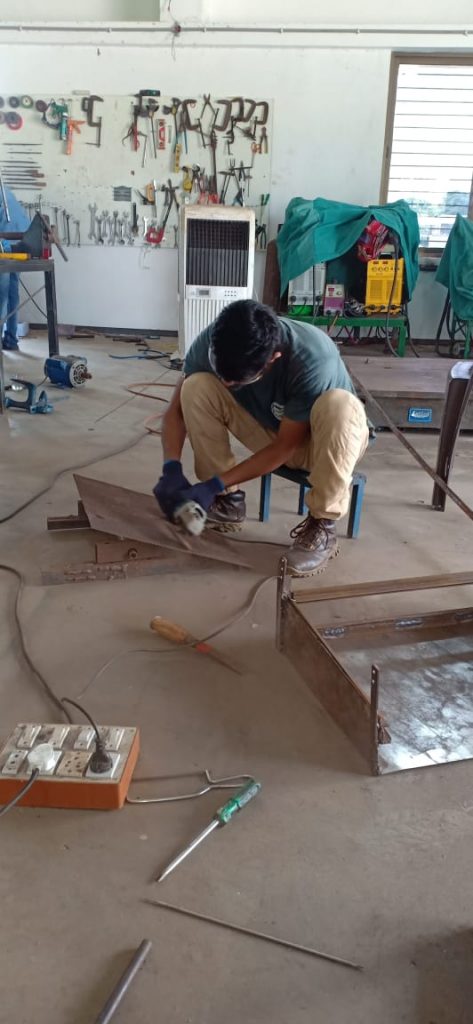 His plan for the future is to make many more machines to solve various issues of society. He wants to make low-cost machines so that farmers from all parts of the country can access them. 
"I want to be a scientist. The young generation should do what they want. It doesn't matter if you get 1st division or 2nd division or hold a degree in science or in arts, what really matters is that what you are capable of doing," Dipankar concludes.
Like this story? Please send us emails and share your views at – contact@thestoriesofchange.com. You can follow us on Facebook, Twitter, YouTube, and Instagram.
If you like our grassroots journalism and would like to help us in bringing out more such stories of change, please support us here.