Balangir, a small town located deep within the jungles of Western Odisha. It is one of the regions which grows some of the nicest people in the state as well as the sweetest rice. Unknown to most people, however, Balangir has an artistic flair. This is often seen in wall paintings in lonely lanes and in front of houses.
The major theme in these paintings is often religious. Paintings of Durga, Jagannath, Krishna, Radha, etc to name a few whose symbols were captured in colourful paint on the walls across rural Odisha. The most common religious figures that can be found around every other alley are Durga and Jagannath painting.
This particular painting of Goddess Durga vanquishing the demon Mahishasura is brilliantly detailed for its location. It was painted on a white wall of a large storage building. There were not many people who would see it. Despite that, whoever the artist was, they had put in a lot of effort into this painting. It was massive and the pillars were decorated with twisting vines and flowers.

Durga is often seen astride her divine which mauls the buffalo of the Mahishasura. The trident, which is a three-pronged weapon piercing through the chest of the Demon. Motifs of Jagannatha were as popular as Durga motifs owing to Odisha being the state where the holy temple of Jagannath is located.

Many of these artworks are a sort of declaration of married people. The names of the bride and groom along with the date of their wedding are painted in intricate designs just beside their front door. It is a unique custom which is hardly found in other places.

Most of them are written in the native script of Odiya, while some of these wedding declarations are written in English. The dates are often mentioned below the names of the couple. Some even mention the artist's name. Usually, a local person who makes sculptures provides these services. The norm goes – the better the financial situation of the family, the more brightly coloured and intricate these paintings are.
On my way throughout the town and it's neighboring villages, I saw many such wedding declarations on almost every house. Many were freshly painted, with vermillion standing out surrounded by a bright yellow wall. Some have been faded away by countless palms rubbing against them as people enter their homes. Others have been affected by the rains and are no longer recognizable.

Some walls appear to have more of a story than others. Somebody punched the word "weds" in between these two names. A marital dispute or a scorned lover who lost his or her love to another. We can only wonder what might have happened.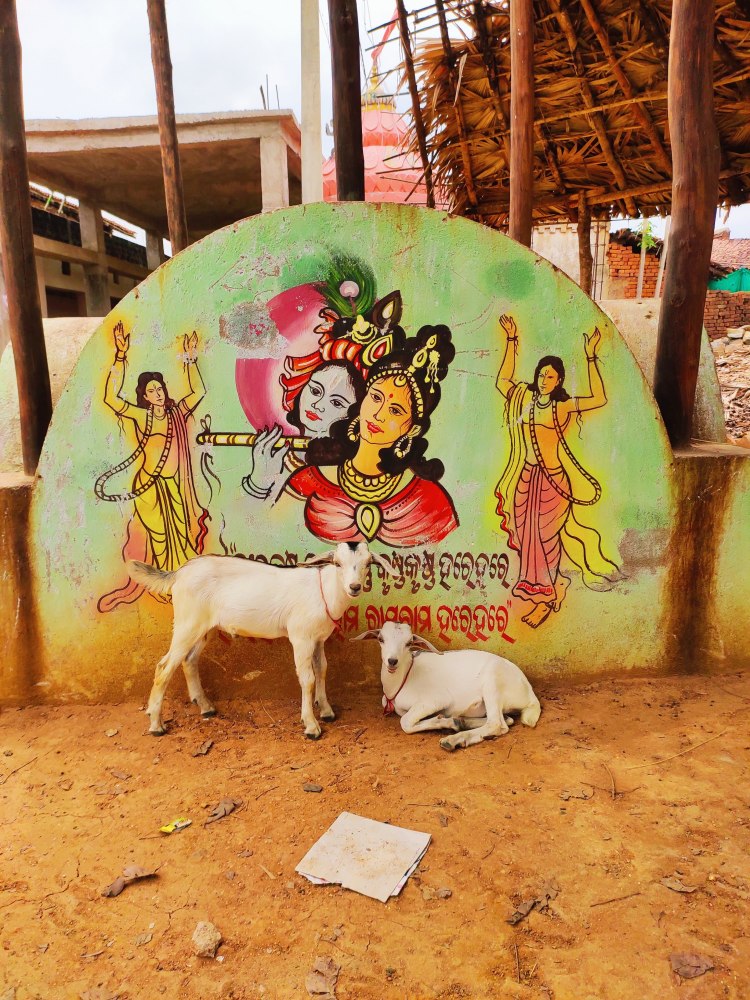 A couple of goats pose for the camera as they rest beside a painting of Krishna and Radha, joined by what appears as two dancing men with garlands and sarees. Krishna and Radha's heads were decorated with various pieces of jewellery showing the level of devotion that the artist and the mainstream people of the village had for their religion. The temple was yet to be constructed and the village showed signs of construction. There were lines written in Odiya that were lost in translation.
Despite being a town that is unknown to the world beyond Odisha, Balangir and it's neighbouring villages have a colourful secret that it shares with anyone who passes by.
Photos: Rishi Ganguly
Originally published here, this story is part of the Milaap Fellowship Program.  
Like this story? Please send us emails and share your views at – contact@thestoriesofchange.com. You can follow us on Facebook, Twitter, YouTube and Instagram.